Our Supplements
Supplements aren't just for athletes or bodybuilders. Supplements are a vital component to adequately nourishing our bodies with the vitamins, anti-oxidants, and amino acids that we all need. Whether you are 18 or 80, a professional athlete or an active adult, dub Nutrition's supplement line is designed to help you discover your ultimate body and help you make a true lifestyle change. Select one of our to begin learning about why dub Nutrition supplements are cutting edge and revolutionary.
SHOP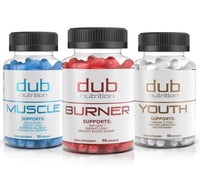 Our Story and how we can help you Discover your ultimate body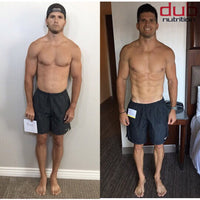 Key to Success
Adding dub supplementation to a healthy routine is essential to reaching your fitness goals. Whether it be to lose fat or gain muscle, our supplements are suited for you.
See transformations
Testimonials
For me, DUB has been life changing in so many ways. Yes, I've had dramatic changes that you can see on the outside, but I can't tell you how much it has improved my health internally. As a previous competitive stunt cheerleader and gymnast, I have suffered so many joint problems that would often leave me limping and in constant pain. CONSTANT! I wanted to lose weight but it was a never ending struggle because it was a vicious cycle......the extra weight I had put on over the years and from 3 pregnancies and c sections also exacerbated the discomfort, but when I'd workout, I would have a flare up afterwards. But I needed to get the weight off. I swear, I have not felt any pain since I started using DUB! I've been able to push myself the way my competitive mind always wants to and my body is not holding me back, and it's recovering and responding the way it used to. I feel like a teenager again! I'm able to give it my all! You could say I'm DUB's number 1 cheerleader! I'm walking proof that the 3 pillars of health work! I'm excited to continue this health journey, confident that I have DUB to help me!

Dulci
I had my annual physical for work ( fire department) and I wanted to give you some truly inspiring results.

Last year on this same date my BMI was 36% and my body fat was 28% my triglycerides were at 364 and good and bad cholesterol was terrible. In the Tiered program used by the department health center I was teetering between 2-3 out of a 4 tiered system. This year as of today my numbers are as follows, keeping in mind 9 months of this year I didn't take your supplements or pay attention to what I ate, I am whole heartedly 100% giving credit to DUB nutrition for these numbers. BMI 31 and my body fat came down to 20. My resting heart rate was 57 and my triglycerides came down to 144, my cholesterol is within range, both good and bad for the first time since 2008.

I understand that diet has a lot to do with my blood panel, but the supplements from DUB gave me the energy and drive I needed to make the healthy and correct changes in my day to day life. I feel better than I have since high school, stronger, faster, healthier and so very happy and thankful for your product!!

Cody
These products have not been evaluated by the FDA and are not intended to diagnose, treat, cure, or prevent any disease and we urge all customers to consult a physician before using any supplements, herbals or medicines advertised here or elsewhere.